Join Grubhub today and get access to Celebrity Virtual Dining Concepts
Join Grubhub today to test new menu concepts with your own virtual restaurant. Or, try one of Grubhub's exclusive Celebrity Virtual Dining Concepts including Pauly D's Italian Subs, Mario's Tortas Lopez and Tyga's Chicken Bites!
What is a virtual restaurant?
Virtual restaurants are delivery-only operations that accept orders solely through apps and websites like Grubhub. With no need for a brick and mortar location, the "restaurant" only exists online.
Restaurateurs can launch a virtual restaurant to experiment with a new menu concept, brand a subset of existing menu items, or capture unmet customer demands for particular food in the market.
Celebrity Virtual Dining Concepts
We've partnered with veteran restaurateur Robert Earl—founder of Planet Hollywood and owner of over 350 restaurants—to launch Celebrity Virtual Dining Concepts. They're celebrity-backed restaurant concepts you can launch with your existing kitchen and staff, and they're only available from Grubhub. Check out our newest concepts below! 
One of MTV's most influential personalities and successful DJ, Pauly D has now created a line of classic sub sandwiches. 
This authentic menu features ingredients like genoa salami, capicola, artisan pestos and finished with the signature vinaigrette "drip." Thanks to Pauly D's love for authentic Italian sandwiches, there's tons of flavor packed into each along with creative packaging to ensure a unique customer experience.
Mario Lopez is known by many from his work on Access Hollywood and Saved By The Bell. And now, the two-time Emmy-winner brings us traditional Mexican Tortas through his new virtual concept. 
This cuisine is packed with flavorful options such as Pork Carnitas or Chorizo & Egg, and even offers a healthier plant-based option. Quick service Mexican food is super popular and sure to help you reach a new customer base! 
Rap artist, Tyga wants to help up the party game with Tyga Bites. With his love of big flavor, Tyga has come up with flavorful chicken bites seasoned with a variety of spice dusts and dipping sauces that customers can mix and match.
When it comes to marketing, Tyga regularly promotes the Bites to his 39M loyal social media followers. Overall  you can expect a quick and easy menu, and many orders!
"Our patio is great, but for those rainy days Grubhub has been a big help to us. It evens out our sales."
Madeline Merageas,
Manager of Mykonos Greek Restaurant
"With Grubhub Ultimate, our average ticket is $2 to $3 higher."
Joe Germanotta
Owner of Art Bird & Whiskey Bar
"With the help of virtual restaurants from Grubhub, we get more sales and more satisfied customers."
Simon Mikhail
Owner of Si-Pie Pizzeria
It's simple and effective.
Build your own virtual restaurant with no franchise fees—you pay only for initial food costs.
Reach a new customer base with a fresh food concept 
Choose your Celebrity Virtual Dining Concept.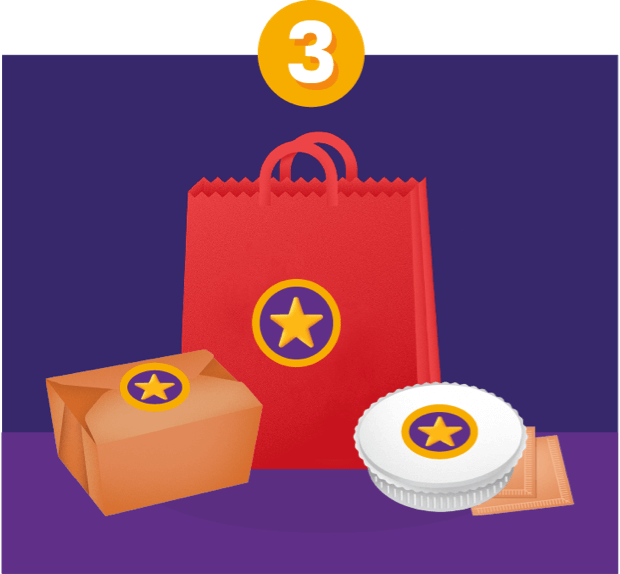 We'll send you the packaging and food ingredients, and we'll build your menu listing—all you have to do is prepare the food and watch the orders roll in.
You'll even be included in national promotions funded by the celebrity brand, including free delivery and more.
Join Grubhub today to get access to these exclusive Celebrity Virtual Dining Concepts!