Sign up for restaurant insights
When you join Grubhub, you get a partner invested in your success, and a major component of your success is understanding how your restaurant will get paid for delivery and takeout orders placed on the Grubhub Marketplace.
We have put together this short guide to help you understand Grubhub for Restaurants payment schedule and how to view your finances we've put together this short guide.
For more information on payments, direct deposit, and finances please log in to your Grubhub for Restaurants account and navigate to the Help Center.
Not a Grubhub restaurant partner? Join Grubhub for Restaurants today to reach new customers, build awareness for your restaurant, and generate additional revenue through takeout and delivery. Click here to sign up!
Grubhub for Restaurants payment options and payment schedules
Grubhub and Seamless offer restaurants the option to receive payments through direct deposit or check.
By default, restaurants are paid by monthly check. We recommend setting up direct deposit to receive your payments more quickly.
If you are on Grubhub:
Checks are mailed monthly on the 5th business day of the month for the previous month.
Checks may be sent to an address other than the business location as agreed upon at sign-up.
Direct Deposit can be sent weekly, semi-weekly or fortnightly. Please see the schedule below:
If you are on Seamless: 
Check and direct deposit are mailed monthly on the 7th day of the month for the previous month.
To see if your payment was submitted through check or direct deposit you will need to log into your Grubhub for Restaurants account and navigate to the Statements tab.
How to set up direct deposit
Direct deposit is Grubhub's method of sending weekly payouts directly to bank accounts.
If you are new to Grubhub or are currently receiving checks as a payout from Grubhub and would like to set up direct deposit, follow the steps outlined below.
Sign in to your Grubhub for Restaurants account and navigate to the Financials > Current Balance screen from the left-hand side menu:
Select "Set up direct deposit" and enter Admin password when prompted:
"Confirm" the linking of your Grubhub for Restaurants account with your bank account.
Select which bank you currently use
Log into your bank account, using your bank User ID and password.
NOTE: Grubhub does not collect nor store any private information and all account information is encrypted for your safety.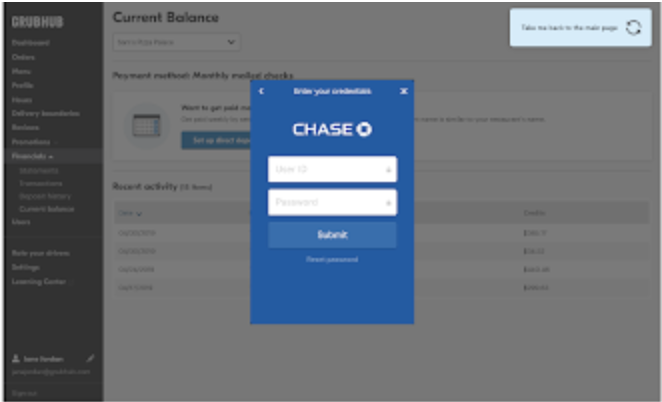 Confirm bank account details are correct and accept the terms and conditions by clicking "Submit".
A bright green confirmation banner should appear at the top of the screen confirming that you have successfully submitted your information – you will also receive an email confirmation once your direct deposit information has been verified and approved:
Understanding your Grubhub for Restaurants statements
Your Grubhub for Restaurants statement will look just like the image below.
Below is a brief explanation of each element within your Grubhub for Restaurants statement
Order revenue
This section highlights your restaurant's revenue from all orders placed through Grubhub/Seamless. The bolded first line shows you at a glance how many orders were placed by customers, as well as the revenue you received from these orders. The following three sections each provide more detail:
Prepaid orders
This section highlights the revenue on orders your restaurant received through your Grubhub/Seamless page, phone orders, direct payment orders, partner channels (e.g. orders received through Yelp), and your own branded channels.
Order adjustments
This section is where you can find the dollar amount representing customer refunds and upcharges to orders after they were placed. We handled the customer conversation on your behalf, and the amount adjusted is called out here.
Redemptions on promotions you created
This section tracks the value of promotions redeemed by customers and funded by your restaurant. These include self-service promotions you launched in Grubhub for Restaurants and any promotions you authorized Grubhub to run on your behalf (e.g. Smart Promotions, $10 off $30 Grubhub funded campaign, $ or % off promotions for new diners). If you received Grubhub funding for one or more of your promotions, you will see a credit in the Account Adjustments section of your statement.
Grubhub order services
This section provides more details on your restaurant's marketing, delivery and order processing rates with Grubhub. For more information about your restaurant's rates, please contact your account advisor.
Marketing
This dollar amount is calculated based on your restaurant's marketing rate percentage, multiplied by your applicable revenue. Grubhub applies these funds toward marketing services for your restaurant including customer acquisition, retention, and recovery; search engine, social media, and email marketing; national media placements and other offline advertising; in-app placement; customer promotions; and extending your volume through partnered channels.
Deliveries
If your restaurant uses Grubhub to deliver your orders, this dollar amount represents what your restaurant pays in order to pay our delivery partners and cover the costs of delivery logistics.
Order processing
This section explains the dollar amount paid for fraud monitoring and protection, processing payments, and order fulfillment technology costs.
Account adjustments
This section includes non-order related adjustments (both charges and refunds), as well as "Pay Me Now" fees. For more information about these adjustments, review your transactions. We are currently working on additional improvements to this section that will provide even greater clarity.
Total
This section details the amount that was directly paid to your bank account, including any money in taxes that your restaurant will be responsible for paying to the proper tax authority. This amount is calculated by adding up the amounts depicted in the section headers (Order revenue for __ orders, Grubhub order services, and Account adjustments). Keep in mind that amounts in parentheses are considered negative amounts.
Your package
Every restaurant's package is different, depending on your restaurant's needs. For information specific to your restaurant beyond what's shared in your financial statement, reach out to your dedicated account advisor.
Account
This specifies which restaurant the statement is referring to (especially helpful for accounts with multiple restaurant locations).
Service rate
This section shows the rates your restaurant pays for the services Grubhub provides.
For more information on Grubhub for Restaurants financials and payment please navigate to the Help Center within your Grubhub for Restaurants account.