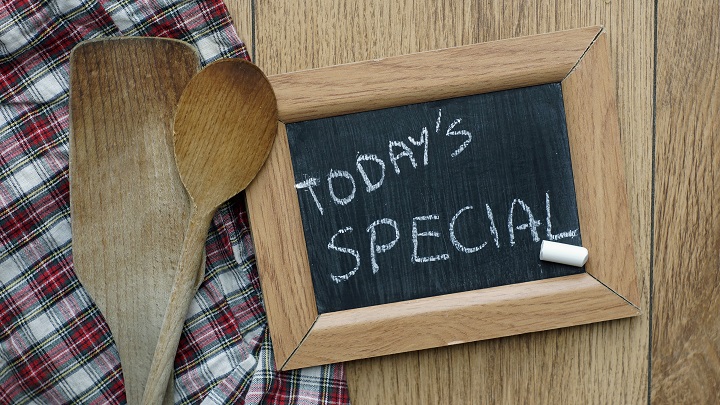 4 Ways to Make the Most of the Grubhub Restaurant Platform
August 17, 2016
From order processing software to smart kitchen appliances, new technology is quickly becoming a vital component of restaurants all across the country. In fact, 73 percent of restaurant owners plan on using cutting-edge business technology in the upcoming year.
With the launch of Grubhub for restaurants – our new in-restaurant technology platform – you'll have the opportunity to boost sales and efficiency from just about anywhere. Get started with these four tips.
Incorporate daily specials
Diners are always on the hunt for a great deal. According to a recent study, nine out of 10 consumers have looked for a restaurant deal at least once. By enabling you to update menu items and swap out daily specials all within a few seconds, our restaurant platform makes it easy to cater to diners who want to stretch their dollar a bit further. If you're interested in adding this feature, you can email or call Grubhub directly.
Review finances
The busier your restaurant gets, the more space your front- and back-of-house staff needs to manage orders and craft great-tasting dishes. Free up tablet-filled countertops by using Grubhub for Restaurants to check your restaurant's finances from any device or location. This added flexibility will give you the opportunity to stay on top of finances without getting in the way of what's most important – the food. It will also help you better analyze how much your restaurant is making with Grubhub and has an option to set up direct deposit, enabling your restaurant to potentially receive funds faster.
Connect with delivery drivers
Customers crave the convenience of delivery. According to the National Restaurant Association's 2015 Restaurant Industry Forecast, six out of 10 millennials view the availability of takeout and delivery as an important factor when choosing a restaurant. But while offering food delivery is a good way to attract diners, making sure it's both speedy and accurate will keep diners coming back for more. From real-time status updates on driver location to map tracking that makes it easy to decide when to begin cooking food, our restaurant platform can help set your food delivery service apart from the competition.
Quickly process orders
Keeping track of every last order can prove challenging – especially as your restaurant begins to fill up. Grubhub for Restaurants, however, may soon bring an end to such concerns. By enabling you to process orders on any mobile, tablet or desktop device, our restaurant platform can help get diners in and out of your restaurant faster than ever before. Grubhub for restaurants also helps you confirm orders and keep diners updated on their status, which can ultimately lead to fewer calls from anxious customers, freeing up your staff's time to process more orders.
Ready to reach new customers and grow your business with Grubhub? Sign up today!