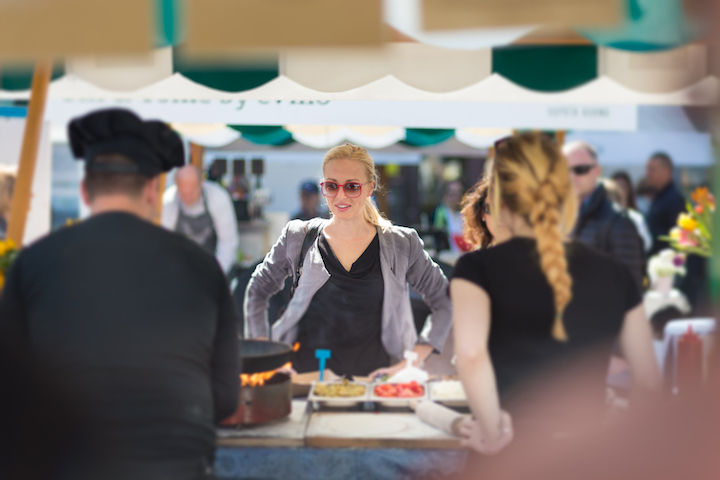 Keeping Food Safe During Outdoor Events
June 14, 2017
Warm weather and sunny skies mean summer food festivals are in full swing. Outdoor events are a great way to earn additional revenue and attract new customers. However, serving up your most popular dishes off-site can come with food safety concerns, including foodborne illness and spoiled meals.
Luckily, there are a few cautionary steps you can take to guarantee customers are still able to enjoy your delicious food during outdoor events. Here's what you should focus on when it comes to food safety outside your restaurant:

Temperature
While summer temps can vary, the FDA recommends food be kept at strict temperatures before serving to customers. Hot food should be kept at or above temperatures of 140 degrees Fahrenheit, while cold food should remain at or below 40 degrees Fahrenheit. You also want to make sure the equipment you use to transport food to and from the event site is properly insulated, guaranteeing food stays at the desired temperature on its way to the event site.
Cross contamination
Food allergies and intolerances are major concerns for customers. If hosting an outdoor event with self-serve stations, make sure each dish has designated serving utensils. If the event lasts longer than four hours, have a few extras on hand to swap out old ones. If you're offering allergy or intolerant-sensitive menu items, consider a separately marked station for those customers.
You'll also want to avoid cross-contaminated dishes. Consider serving food to customers on single-use paper plates with plastic utensils so they can simply toss them when done.

Sanitizing
It's much more difficult to maintain a clean workspace outside than in your restaurant's kitchen. To avoid dirt and other particles from entering food, set up a portable hand-washing station for employees. If one isn't available, you can fashion a makeshift station out of a large container with a spigot (like a large iced tea or soda jug). Cooks and food preppers should always wear gloves, but you also want to make sure employees regularly wash their hands before and after serving food.
Customers want to enjoy food outside without worrying about the safety or integrity of their meals. Following basic food safety protocols will help customers enjoy their favorite dishes — and the great weather — without concern.
Ready to reach new customers and grow your business with Grubhub? Sign up today!