You serve
your customers.

And we serve you.
Join Grubhub for Restaurants and together we'll increase your takeout sales and reach hungry new customers.
Fill out the form below and we'll be in touch
Join Grubhub Marketplace with customizable options
Flexible packages with marketing commissions as low as 5%. Choose the one that's right for your restaurant.
Helping your business is our business
When you partner with Grubhub for Restaurants, you get instant access to 33 million hungry customers eager to order online from local restaurants. Reach new customers and get more delivery and pickup orders today—it's free and easy to get started.
Reach new customers
Over 80% of independent restaurants agree that Grubhub for Restaurants increases customer frequency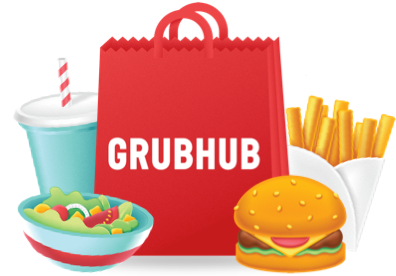 Increase your delivery and takeout sales
Get access to easy and free-to-use promotions and loyalty tools to acquire new customers and turn them into loyal fans
Simplify your operations with industry-leading technology
7 in 10 independent operators rank Grubhub highest among leading providers for its technology package (Technomic 2019)
Expert support whenever you need it
Free support from real experts, including a 24/7 customer care support team and dedicated Account Success Managers
How does Grubhub for Restaurants work?
Tell us about your restaurant and we'll get you set up online. Choose your own flexible pricing option with no up-front costs or long-term commitment. You also have the option of driving customers to your own branded commission-free ordering website with Grubhub Direct
Your restaurant will start appearing on Grubhub.com, Seamless.com and mobile apps.
Easily manage and fulfill pickup and delivery orders with the complimentary tablet, or on your own device. You'll receive payment for orders placed by Grubhub customers.
"
Grubhub is essential to our business."
Chef Hillary Sterling Cayenne
, Nashville Hot Chicken
When it comes to order fulfillment, you have options
Your restaurant will be listed on Grubhub Marketplace, where customers can choose pickup or delivery. For delivery orders, you can use our drivers or your own.
Fill out the form to get started and choose from these options:
See for yourself how you could boost your profits
Try the Restaurant profit calculator to see what joining Grubhub for Restaurants could mean for your business.