8 Restaurant Trends Taking Off in 2018
December 27, 2017
With 2018 fast approaching, it's out with the old and in with the new, right?
Well, not entirely. While fresh restaurant trends are sure to pop up in the new year, there's a number of 2017 trends still holding strong.
As you close the book on 2017, keep an eye on 8 food trends that may attract new customers and boost revenue throughout 2018.
1. House-made condiments
Ketchup and mustard don't have to be your only condiment options. Spice things up with a few new flavors that will keep customers coming back for more — think Sriracha-infused ketchup or chipotle mayo. Once you've nailed down some unique creations, offer them with popular appetizers or entrees to see if they're fan favorites.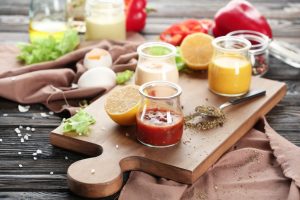 2. Avocado toast
Halfway through 2017, avocado toast orders rose by 93% compared to 2016. That number has since skyrocketed to 212%. Millennials put this dish on the map a couple years ago, and there's still time to capitalize on the surge in demand by adding avocado toast to your menu in 2018.
3. Activated charcoal
Black is back — and activated charcoal is a big reason why. Whether it's in ice cream or bagels, activated charcoal is used in a wide range of dishes. Meet with your back-of-house staff to brainstorm different ways you can start featuring this renowned detoxifier.
4. Alternative pasta
Many customers are turning their attention toward alternative grain pastas — such as quinoa, chickpeas or lentils — as well as pastas made from spiralized vegetables like zucchini and sweet potato. Offer similar options to reach gluten-free customers as well as those looking to cut back on carbs.
5. Rolled ice cream
Also known as stir-fried ice cream, this Thai treat is winning over dessert lovers everywhere. And that doesn't figure to change anytime soon. Make the most of this tasty trend throughout 2018 and beyond.
6. Bulgogi bibimbap
2017 was just the start of bulgogi bibimbap's rise in popularity. In fact, this beloved and flavorful Korean staple — typically made with thinly sliced meats, an assortment of sauteed or raw vegetables and a fried egg over a bowl of crispy rice — is projected to see an 89% increase in orders throughout 2018. Include it on your menu to satisfy customers who want a taste of this hot and delicious trend.
7. Overnight oats
Liven up your brunch offerings with this overnight sensation. Though the oats commonly feature honey and vanilla, try throwing in a few new ingredients, like chia seeds, cocoa powder, fruit or raisins, to make this dish your own.
8. Spam musubi
Though poke bowls have grabbed plenty of attention this year, they're not the only notable Hawaiian food trend expected in 2018. Meet the demand by taking this spam and sushi combo for a spin.
Ready for a second helping of 2018 restaurant trends? The Tip Jar can help satisfy your appetite. Subscribe today!