5 Healthy Menu Items For 2018
December 20, 2017
A new year often brings demand for new options — and healthy dishes.
And in 2018, customers may start piling up their plates with more healthy meals than ever before. In fact, 7 in 10 customers are trying to eat healthier at restaurants than they did in 2015.¹ Still though, taste often takes precedence. Nearly 85% of consumers say taste is the top driver of food purchases.²
Offer the best of both worlds by adding menu items that are not only nutritious, but also delicious. These 5 healthy dishes are a great place to start for updating your menu in 2018.
1. Plant-based burgers
A growing number of restaurants are swapping out traditional meats with a popular alternative — plant-based proteins. More than 70% of consumers consider plant-based meat alternatives to be healthy. Roll out a plant-based burger — think seitan, portobello mushrooms or black beans — to meet the needs of those looking to cut back on meat consumption. If the dish is a success, it may be worth adding plant-based proteins to other items on your menu.
2. Poke bowls
Spice up the way you serve seafood by offering poke bowls. Though this rice, tuna and vegetable-packed dish has long been a staple of Hawaiian restaurants, poke bowls have recently gained traction throughout the U.S. mainland.
3. A new twist on tacos
Make no mistake — classic tacos are here to stay. But that doesn't mean you can't step outside the shell or test out new fillings. Go beyond traditional tortillas and switch things up with lettuce and seaweed wraps. Try offering various fillings that health-conscious consumers can mix and match to best satisfy their appetites.
4. Cauliflower crust pizza
Satisfy comfort food cravings by introducing a cauliflower-crust pizza. The dish provides the same great taste without the added calories of a traditional pizza pie. Better yet, this meal can help drive sales from 44 million gluten-free consumers.³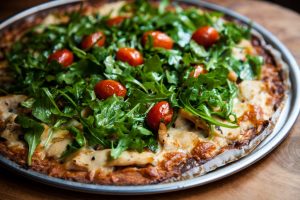 5. Bánh mì
Affectionately referred to as a Vietnamese hoagie, bánh mì now appears on almost 5 times as many menus as it did 4 years ago.4 Make the most of this surge in popularity by adding this cucumber and cilantro-stuffed sandwich to your menu.
Ready for more ways to spice up your menu options? Subscribe to The Tip Jar today!
¹National Restaurant Association
²Cargill: The Science of Sweetness
³The Gluten-Free Agency
4Datassential: FoodBytes June 2017